Located between Milton and Guelph on the First Line of Nassagaweya, Old Orchard Farm is a teaching and boarding facility operated by the family of Linda Hale and George Daunt since 1987.
We are an active, family-oriented barn priding ourselves on delivering specialized programs to meet the unique needs of each individual rider. Our goal is to assist each of our students to attain their equine dreams and aspirations, guiding them to be the best they can be while emphasizing fun, friends and sportsmanship.
Old Orchard Farm provides a wide range of opportunities to riders of all ages. Some enjoy a quiet hack along the surrounding cornfields and through the nearby forests. Others are focused on serious competition on the Central West Trillium Circuit.
For those seeking experience in horsemanship, OOF offers a working student program. This provides the opportunity to learn barn management and horse care in a supervised setting while earning points that are applied like cash to anything offered at OOF.
Old Orchard Farm is an OE Approved Facility Member.
Erika Lamb Memorial Equitation Clinic
We are happy to announce the date of our annual I Ride 4 Erika Equitation Clinic. The clinic will take place December 7th & 8th*.  We are thrilled to have Hyde Moffat returning this year as our clinician.  
Stay tuned for details & registration opening.
*Dates originally listed as the 6th -7th. Please update your calendars. All groups will ride on both the Saturday and Sunday.
Holiday Horse Show & Christmas Party
Official show season may be over, but there's always time for fun!
Join us on Saturday, December 21st for our Annual In-House Christmas Fun Show.
Show Kicks of at 9:30 AM followed by Christmas Tea & "Cultivating a Deeper Connection To Your Horse by Creating a Deeper Connection With Yourself Using Yoga Breathing and Somatic Awareness" session with Jenni-Leigh.
One of our most popular opportunities is the OOF Schooling Show Series consisting of five shows held annually between May and September. All riders welcome.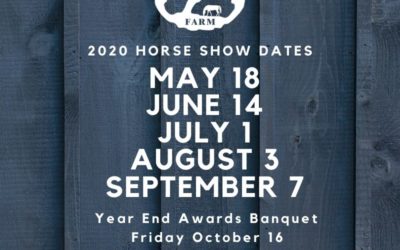 Mark you calendars, Old Orchard Farm 2020 Summer series show dates: Monday, May 18, Sunday, June 14, Wednesday, July 1, Monday August 3 Monday, September 7. The classes and divisions are the same as in 2019. Program to come. We'll update when registration is...