Welcome
Join us in our 23rd season of the Old Orchard Farm Show Series! This year's show season is off to a great start and promises to continue through the August and September Shows. 2018 has seen the creation of two new divisions to better suit beginner riders of all ages. The August show will once again feature the popular Greenhawk of Cambridge Hunter Derby and Damshacuir Thoroughbred Classic. Don't miss the year end finale Classic, featuring great prize money and a chance to jump the steps at the September show. We would like to extend a huge thank you to all who have and continue to support our shows over the years; from our amazing volunteers who help us to run the whole series, to our generous sponsors, Judges and of course those of you who come to partake in the shows.
New Divisions
We are excited to announce new divisions for 2018 to better suit beginning riders of all ages as well as our usual line up of specialty classes and standard divisions.
* Junior/Amateur Beginner – Rails on the ground, W/T Under Saddle – No Age Restriction
* Junior/Amateur 18″ Division – No Age Restriction
Download full 2018 show program at the bottom of this page. Reminder that competitors must enter 3 of the 5 shows to be eligible for year end awards.
Old Orchard Is now using My ESM
Pre-Register for Shows
ESM makes it easy for you to register for shows by letting you store rider and horse information in your account
Get Division Counts
Use ESM to help you gauge how the day will run with entry counts for all classes and divisions
Get Overall Results
ESM lets you track your registration and results
*Does not calculate for 3-show year end prize rule*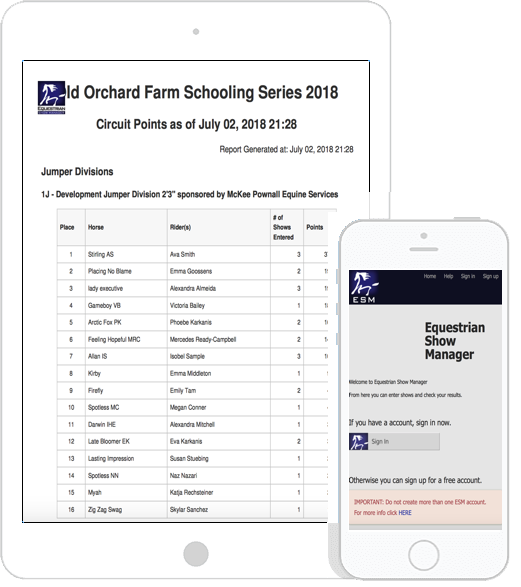 THANK YOU TO THE SPONSORS OF THE 2018 SHOW SEASON
Join Our Mailing List
For registration alerts and updates